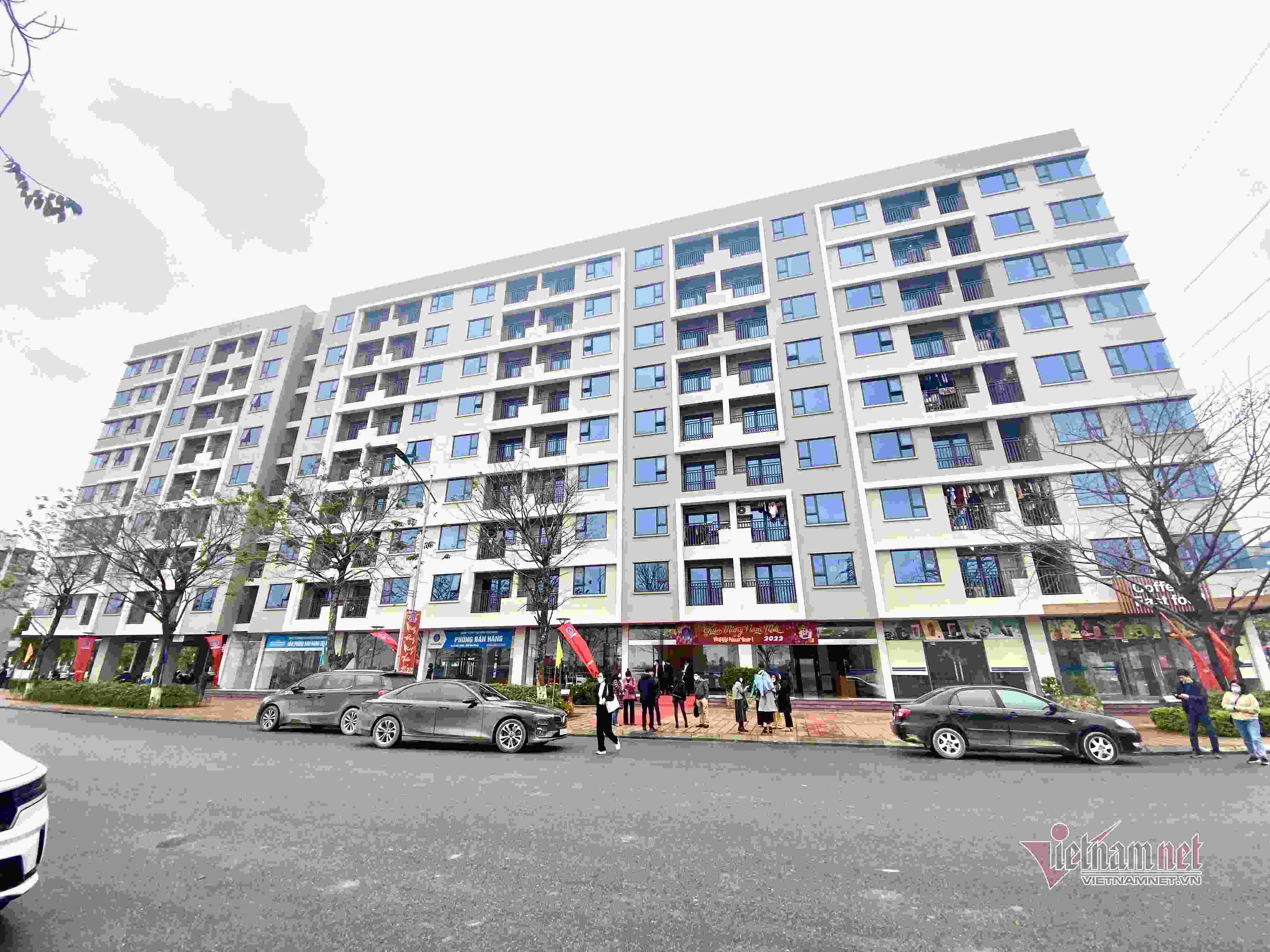 workers can borrow money to buy, rent houses
An economic stimulus package worth VND 350 trillion, the largest yet, to be disbursed in 2022 and 2023, offers plenty of support measures. Workers in difficulty can borrow money to buy or rent social housing.
On January 30, the government issued a resolution on the socio-economic recovery and development program, which mentioned five groups of solutions, including social security and employment.
In the first half of 2022, workers who live in rental accommodation and work in industrial zones (ZI) and export processing zones (ZFE), would benefit from financial assistance for 3 months' rent. A minimum of VND 1 million per month will be granted to those returning to work, while those currently working in enterprises can receive VND 500,000 per month.
The government has also set the loan policy to help maintain and expand jobs, with a maximum loan of VND 10 trillion. Individuals and households can also borrow money to buy, lend and repair houses with a total capital of VND 15 trillion.
According to Minister of Labour, War Invalids and Social Affairs Dao Ngoc Dung, in order to restore the labor market, the state will use VND 6.6 trillion from the state budget to support workers for the rent of the Housing, which includes 3 months rent to be granted to those working in ZIs, ZFEs and key ZEEs.
The State also pays 3 months' rent to workers returning to the labor market. This aims to attract workers who have returned to their hometowns during the pandemic.
The policy of zero-interest business loans to pay workers' wages will continue to be implemented.
Additionally, workers can borrow money at preferential interest rates to expand commercial production, with loans of up to hundreds of millions of dong.
In order to help workers settle and provide minimum housing security, the Social Policy Bank will launch the biggest credit package ever with ultra-low interest rates, providing loans to businesses to build dormitories and housing for workers, and lend money to workers to finance the purchase of social housing.
Under a support package worth VND 7.5 trillion, funds will also be disbursed to help companies provide training to workers.
The Ministry of Labour, War Invalids and Social Affairs (MOLISA) will submit the plan to the government, which will report to the NA Standing Committee on VND 6.6 trillion to support workers and loans to help the resumption of production.
The minister said soon after that he will immediately start implementing the policies.
The implementation of the support policy this year will use the National Population and Social Insurance Database to identify permanent residences, temporary residences and jobs of workers. However, the ministry still needs the cooperation of local authorities.
Infrastructure
An economic stimulus package worth VND 350 trillion, the largest yet, to be disbursed in 2022 and 2023, offers plenty of support measures. Workers in difficulty can borrow money to buy or rent social housing.
Important infrastructure projects that the government is focusing on are the North-South Highway, the roads that connect the northern highlands, the central highlands and the central region; highways in the southeast region and the Mekong Delta; and transport infrastructure that connects regions, seaports, border posts, ZIs; and digital infrastructure and digital transformation.
In the meantime, patterns and policies that impede production and business will be eliminated in a program of institutional and administrative reform aimed at improving the business environment.
More administrative procedures will be implemented online, while innovative solutions to promote digital transformation, digital economy and green and circular economy will be implemented.
The government will provide an interest rate and management fee subsidy, up to a maximum of VND 2 trillion, so that the Social Policy Bank can provide preferential loans.
It will also grant an interest subsidy of 2% per annum on loans with an interest rate above 6% per annum, to be disbursed by the bank in 2022-2023. The total capital amount of the program is VND 3 trillion.
The reopening of the economy must be coupled with investments to improve health care and pandemic prevention and control capacity. The reopening of tourism, air transport and entertainment services will be guided by the appropriate agencies.
The government has launched a series of policies on tax, fee and charge rebates for 2022, including VAT cuts.
The VAT reduction is not applied to the telecommunications, finance and banking, securities, insurance and real estate sectors.
The environmental protection tax imposed on kerosene has been reduced by 50%. The vehicle registration tax on domestically assembled cars has been reduced by 50%. Companies, business households and individuals who have to suspend their activities due to Covid-19 will benefit from 30% land and water surface rents in 2022.
Commercial banks will provide an interest rate subsidy of 2% per annum in 2022-2023, applied to loans from businesses, commercial households and cooperatives that can pay their debts and collect; companies in aviation, freight and warehousing, tourism, accommodation services, education, and software exports.
The banking sector aims to reduce the interest rate on loans from 0.5% to 1% over the next two years. The government is also considering reducing electricity charges.
1 USD = 23,200 VND
Gia Van
The "non-financial" solution a contributing factor to improving the business environment
The COVID-19 pandemic has caused local businesses to face an array of risks, with significant and possibly long-lasting vulnerability for them.
Rising oil and gas prices would dampen economy: expert
Rising global oil and gas prices will affect domestic production, as the cost of oil and gas accounts for about 3.52% of the economy's total production costs, driving up commodity prices.