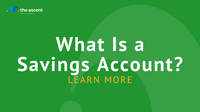 What is a savings account?
A savings account is a type of checking account offered by banks and credit unions. The money you put into these accounts earns interest, unlike most checking account funds, so you can grow the value of your savings over time. Like checking accounts, savings accounts are FDIC insured, so you're protected for up to $250,000 per person per bank if your bank fails.
Savings accounts vary in the interest rate they offer. Savings accounts at physical banks tend to give you low interest – the national average is currently 0.06% APY. But there are high-yield savings accounts with some online banks that offer nearly 2% APY. A higher annual percentage yield (APY) allows you to earn interest much faster. If you put $1,000 in a savings account with an APY of 0.06%, you will only have earned $0.60 in interest after one year. But if that account earned 1.60% APY, you would earn $16 after one year.
Most savings accounts don't allow you to withdraw money directly, although a few banks offer ATM cards. Usually, if you want money from your savings account, you have to transfer it to a checking account and withdraw it from there by debit card, check or by going to a bank branch.
For many years, savings accounts were governed by Regulation D. This is a federal law that prohibited you from making more than six withdrawals or transfers from your savings account in a month. Not all transactions fell under this rule. Deposits, in-person transactions at a bank, and ATM withdrawals, if your account offered an ATM card, were not counted towards your six monthly transactions. Electronic transfers and automatic bill payment, however, did.
The Federal Reserve suspended this regulation at the start of the COVID-19 pandemic and it still has not reinstated it in 2022. However, individual banks can still choose to limit the number of withdrawals customers can make from their accounts. savings.