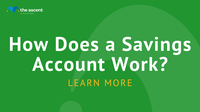 How does a savings account work?
How does interest work on a savings account?
One of the biggest points of confusion about how savings accounts work is how banks calculate interest on a savings account. Each account has an annual percentage yield (APY). Most people think it's the same as an interest rate, but APY is actually slightly different.
APY tells you how much your balance should increase after one year. If you have an APY of 1%, that means your $1,000 balance will be worth $1,010 at the end of the year, assuming you don't deposit or withdraw any additional funds. The math gets trickier if your balance changes over time or if your bank changes its APY, which it can do whenever it wants.
Savings account interest is usually compounded daily. So your daily interest rate would be your APY divided by 365. On the first day, you only earn interest on your original balance. But on the second day, you earn interest on your initial deposit plus the interest you've earned so far. Compound interest helps your savings grow faster. Your bank usually deposits the interest you've earned into your account once a month.
Are savings accounts safe?
A common concern people have when learning how savings accounts work is whether they are safe. If you're familiar with banking terminology, you might ask, "Are savings accounts insured by the FDIC?" The answer to both is yes.
Federal Deposit Insurance Corporation (FDIC) insurance is an essential part of your savings account security. It protects you for up to $250,000 per person, per account and per bank in the event of bank failure. All reputable banks have FDIC insurance on their deposit accounts, including savings accounts.
Banks also use advanced encryption on your online accounts to ensure that identity thieves cannot access your financial information. Of course, the security of your savings account information is also up to you. Be careful not to leave your passwords or bank account information where someone can find it, or they can access your funds remotely.
If you have extra money that you don't plan to use immediately, a savings account might be a good place for that. If you're working towards a savings goal, keeping your funds in a personal savings account can help you track your progress.
Now that you understand how savings accounts work, you can find the one that's right for you. Focus on choosing an FDIC-insured account that charges low fees and has a high APY so you can earn the most interest on your money.
Still have questions ?
Here are some of the other questions we answered: